Welcome to the website of Van der Gucht!
We offer you one of the largest selections in Europe of outdoor pottery and artificial Christmas trees.
We are also supplier of qualitative bamboo canes, used for decoration but also in professional life.
We also have an attractive assortment of indoor pottery.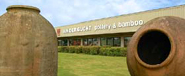 WWW.POTTERIE.INFO
Take a look at our new website www.potterie.info !
You will find here more tips and information about our home brand Potterie!.